What to expect
You will be offered regular health and development reviews for your baby until they are two. These are to support you and your growing child's physical, social and emotional development.
Where do the reviews take place?
The reviews are usually done by a health visitor or nursery nurse. They may be done in your home, local Children Centre or Health Centre.
The personal child health record (red book)
Shortly after your baby is born, you'll be given a personal child health record (PCHR). This usually has a red cover and is known as the "red book" this special little book will record your baby's individual progress, remember to keep it safe. Your child will enjoy looking at their book as they get older and can't remember these earlier stages of their childhood.
Take your baby's red book with you every time you visit the local Health Advice/Nursery nurse drop in, GP or A&E. They will use it to record your child's growth, progress and immunisations as well as other valuable information.
You can also add information to the red book yourself. You may want to record any illnesses or accidents your baby has, or any medicines they take.
You'll find it helpful to keep the developmental milestones section of the red book up-to-date, too.
During your baby's reviews your health visitor or nursery nurse will discuss your baby's health and development, and ask if you have any concerns.
How often should you weigh your baby?
NHS advice is that children need to be weighed;
| | |
| --- | --- |
| Age | No more than |
| 2 weeks to 6 months | Once a month |
| 6-12 months | Once every 2 months |
| Over 12 months | Once every 3 months |
If there are any concerns about your baby's growth or health, weighing and measurement can be more frequent.
Click here for Growth charts – information for parents/carers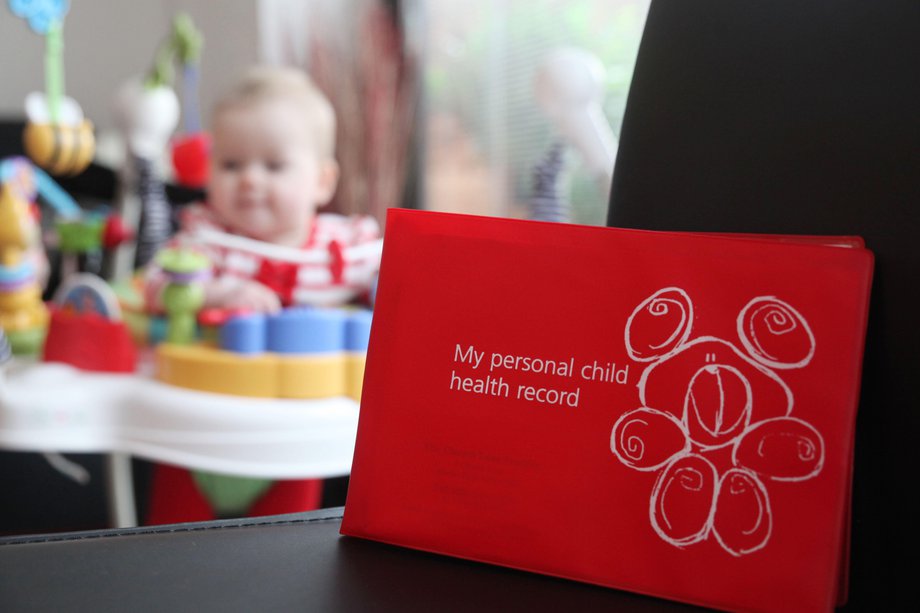 When your baby will have their reviews
Your baby will usually have reviews with the health visiting team at the ages listed below. If you have any concerns at other times, you can contact your health visitor, GP, or go to your local Health Advice Session drop in.
Antenatally (before baby arrives)
Ten to fourteen days after birth
Six to eight weeks
Ten to twelve months
Two to two and a half years
Before birth
Your health visitor will offer you an appointment to discuss you pregnancy, your physical and emotional health and your preparation for parenthood after you are 28 weeks pregnant. This appointment could be in your home, at a local Children and Family Centre, by telephone or 'webex' (a system similar to Skype), depending on your preference, and whether this is your first baby.
Ten to fourteen days after birth
Your health visitor will carry out a new baby review within 10-14 days of the birth at your home. They will give you information to help you make healthy choices for yourself and your new baby.
They can give you advice on:
Reducing the risk of sudden infant death
immunisations
Responsive feeding
Caring for your baby
Your baby's development
Parental health and well being
Your health visitor will talk through your Baby Friendly Initiative pages including a breastfeeding assessment form to help you know if your baby is getting enough milk.
Six to eight weeks
You and your baby will be invited for a review with the health visitor Your baby may have their weight and height measured at this contact. The Health visitor will assess how your baby is progressing so far and see if they can support you with any issues that may affect your parenting. They will also ask you how you've been feeling emotionally and physically since the birth of your baby.
The Ages and Stages Questionnaire (ASQ-3)
Your health visiting team will send you questionnaires, known as the Ages and Stages Questionnaire, to fill in before your child's 10-12 month and two-two and half year development reviews.
This allows you to try out some of the activities covered by the questionnaire with your baby at home, where they are comfortable and in familiar surroundings. We also have a brief online questionnaire (link) you can complete when your baby is 10-12 months old, to give you an indication of your baby's progress.